Making cement industry into an industry that properly handles all kinds of waste, uses waste as an alternative raw material to reduce the use of nonrenewable resources, and research to transform cement manufacturing technology into "zero emissions - natural circulation"... At first glance, Vicem's pursuit for a greener future appears to be a dream, but it is not! Every ton of cement currently contains "waste", but the quality is still guaranteed...
In Ho Chi Minh City's main office of Ha Tien 1 Cement Joint Stock Company (Vicem Ha Tien). One day near the end of the year in Ho Chi Minh City, General Director Luu Dinh Cuong passionately discussed abour ... waste! He announced that Vicem Ha Tien had invested in an industrial waste incineration plant at the Binh Phuoc cement facility last year, the plant will start operating in February 2020, replacing 25% of coal. According to estimates, Vicem Ha Tien has decreased expenses, or boosted revenues, by 30 billion dong by using industrial waste to replace coal in 2020.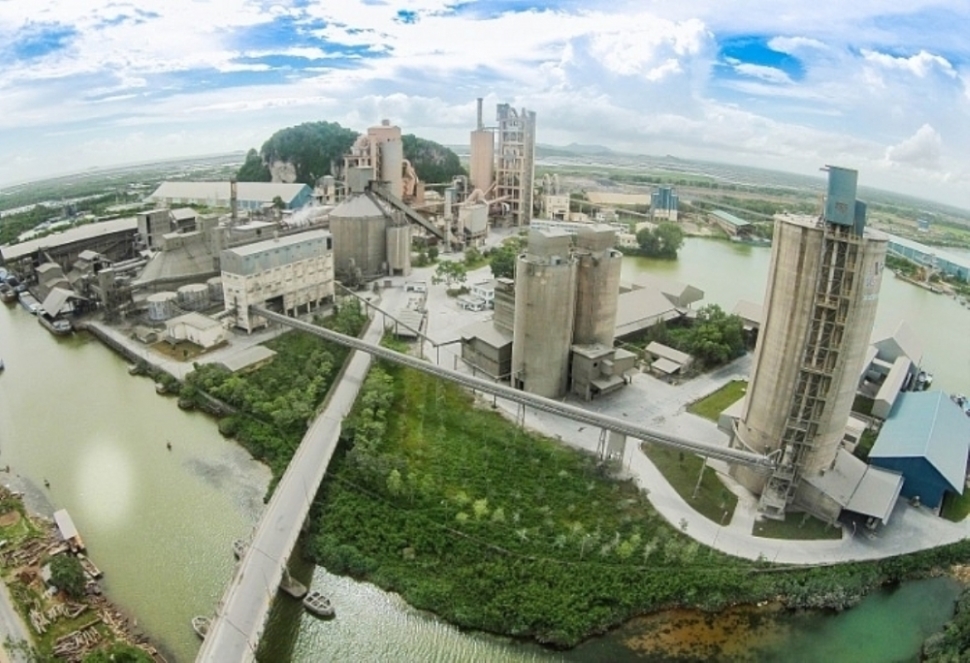 This is just one of the initiatives by Ha Tien 1 to achieve goal about "zero-emission manufacturing - natural cycle" of the Vietnam Cement Corporation, which Chairman Bui Hong Minh initiated and determined to promote. Since 2013, Vicem Ha Tien has been using rice husk firewood instead of HFO oil to dry raw materials at Phu Huu crushing station (Ho Chi Minh City). Rags, shoe soles from industrial zones in Dong Nai, Binh Duong and Ho Chi Minh City, were collected and incinerated it in a kiln in Binh Phuoc to replace a part of coal. In 2015, Vicem Ha Tien researched and introduced cashew nut shell to replace a part of coal in clinker smelting at Binh Phuoc factory, the capital of cashew nuts. This contributes significantly to environmental protection in Binh Phuoc and the Southeast region, because if cashew shells aren't used, they may pollute the environment.
In addition, Vicem Ha Tien maximizes the utilization of ash and blast furnace slag in cement manufacturing, helping reduce the backlog of thermal power plant ash and the bottom slag of iron, steel factory. In 2020, Vicem Ha Tien has sent 1,000 tons of sludge from Thu Duc Water Plant to Kien Luong Cement Factory to be tested as a replacement for natural clay, which is a non-renewable resource."We assumed this sludge could be utilized instead of clay. This result will assist in the reduction of clay mining and the comprehensive treatment of sludge following water production, as well as the sludge from dredging of province and city canals", Mr. Cuong said.
Another member of Vicem is Hoang Thach Cement (located in Hai Duong province) uses a 3-5 percent of ash, slag, and 1 percent artificial gypsum, is continuing to research to enhance the rate of using these kind of materials. Vicem Hoang Thach's use of wastes to replace coal in clinker manufacture also achieved important outcomes. Specifically, the average alternative fuel is 25kCal/kg, which equates to 2.97 percent of the total heat utilized in the plant. To reduce CO2 emissions and dust, Vicem Hoang Thach has manufactured hundreds of thousands of tons of low-carbon clinker.
Towards green production is not the personal story of the leading enterprises in Vicem such as Ha Tien 1, Hoang Thach, Bim Son... Even in Vicem Ha Long, an enterprise on the point of bankruptcy with thousands of billions of dong in debt after only three years, astonishingly resurrected with Vicem. "The leadership is not tight on investments in order to convert to green, environmentally friendly production", said General Director Hoang Anh Duc.
Since 2018, Vicem Ha Long has been processing almost 150,000 tons of fly ash, bottom slag from thermal power plants, and blast furnace slag for steelmaking every year, especially from September 2020 to now, in accordance with the General Direction. Vicem Ha Long incinerated 1,500 tons of industrial waste such as plastic, chopped nylon, and waste products from textile manufacturers and treated over 4000 tons of sludge from local industrial parks. The cement manufacturing industry is very suitable for basic treatment of these types of waste and does not generate harmful secondary substances, Mr. Duc said. On the other hand, relying on waste and sludge, Vicem Ha Long can minimizes coal use and has alternative raw materials for cement manufacturing process, such as sludge, which has now replaced 7 percent of natural clay. The replacement of traditional materials with sludge, industrial waste... not only helps businesses save money and preserve product quality, but it also makes more sense in terms of lowering the non-renewable resources use, CO2 emissions reduction and pollution reduction.
However, according to Vicem's Chairman Bui Hong Minh, the optimistic successes of member companies are just "a half small step in a long journey". Vicem - the largest cement producer in Southeast Asia and the largest cement brand in Vietnam (with approximately 40% of the domestic market share), has made a significant contribution to the country's and the building industry's development. "However, in the explosion of science and technology, increasing market competition, and the progressive exhaustion of natural resources (coal, limestone), businesses who do not innovate to generate extraordinary values will lose their position, brand name, and even go bankrupt. Furthermore, as a state-owned business, in addition to the purpose of protecting and increasing capital, Vicem must demonstrate responsibility for green growth in order to preserve and protect the environment. We must clean up our own waste and return to nature what we have taken!"
To demonstrate their vision and thinking, Vicem's executives shook hands with FLSmidth Group (Denmark), the world's largest supplier of sustainable technology, to research and invent new cement production technology: zero emissions - natural circulation. The collaboration's results could lead to the development of a new generation of cement manufacturing equipment that can reduce emissions by up to 70%, with the cement industry's goal of zero emissions by 2030.
"Doesn't this goal sound a little too far?". Vicem's Chairman Bui Hong Minh came out laughing at that remark and then remained silent. "Human beings must have ambitions!" Furthermore, clinker kiln temperatures of up to 1,400°C provide the cement industry the goal of recycling, dealing with waste in the most radical and fundamental way!", he said!
The clearer answer to Vicem's green aspirations is in the circular economy model, which reduces emissions and which members have been testing and adopting in the last few years under the supervision and encouragement of Mr. Minh! Hundreds of thousands of tons of industrial waste, agricultural by-products, sludge, ash, and other materials have been properly processed in clinker-burning kilns rather than being dumped into the environment. The quantity of raw materials and resources in each ton of cement is decreasing, but the quantity of "waste" is increasing. Many businesses have developed and implemented low-carbon technologies in their manufacturing processes in order to reduce emissions...
Despite the Covid-19 shock, or increases in the price of coal, power, and other labor costs, the same circular economic model has helped Ha Tien 1, Hoang Thach, Ha Long, Bim Son, and even Vicem create "incredible value". Period 2015-2020, Vicem produced and consumed 143 million tons of products (equal to 115 percent of the plan); total revenue was 182 trillion VND (corresponding to 107 percent of the target); and total pre-tax profit was 13.7 trillion VND, increasing by 2.6 times compared to the five years 2011-2015. In the last 5 years, Vicem has contributed over 11.6 trillion dong to the budget, a 1.97-fold increase over the preceding period. In the beginning of 2020, Vicem's equity was roughly 21.5 trillion VND , up to nearly 8% from 2015. Employees' average monthly income was about 13.2 million VND... "Vicem is exactly what the nation needs"! On the afternoon of December 26th, Prime Minister Nguyen Xuan Phuc stated in his speech at a conference to analyze the situation of task performance in the 2016-2020 period and the orientation of goals and solutions to perform of the Ministry of Construction next 5-year tasks.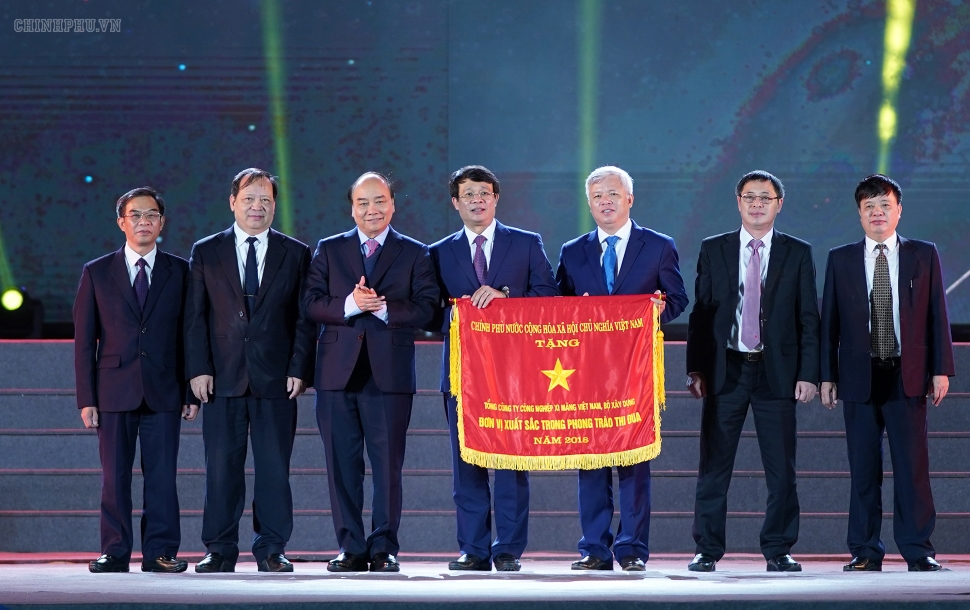 At the 120th anniversary of the establishment of Vietnam's cement industry, Prime Minister Nguyen Xuan Phuc presented Vicem with the Government Emulation Flag (January 2020). Photo credit: VPG
"Vicem has only taken small steps toward the goal of green and sustainable growth, with tremendous economic potential, excellent technology, a modern management model, scale, basis and competitiveness on international scale", Vicem's Chairman of the Board of Directors says that all the time! He has worked in the cement industry for more than two decades and, as he put it, "my life is here", He still has many concerns because he understands his business and wants to improve not only society's perception of Cement manufacturing, but also changing production technology to make it more environmentally friendly and sustainable.
Although the journey is long, the preliminary findings indicate that Vicem is on the right course. If Vicem's green vision is realized, it will assist Vicem in reaching new heights and contributing to the country's rich, strong, and civilized development during this period of integration.
"There is a belief that managing state-owned businesses is easier than managing private businesses because state-owned businesses have access to manufacturing facilities and human resources. We are still not fully understand the challenges that state-owned businesses have to face. With the current explosion in science and technology, available assets will be the "rock that pulls the foot" of an businesses's development.
If state-owned businesses do not have an innovative and creative mindset to improve and adapt, which means they will be unable to create remarkable values in today's extremely competitive market, they will not be able to maintain their position, brand, or even they may be gone

!".

Vicem's Chairman of the Board of Directors Bui Hong Minh said.
Source: https://www.daibieunhandan.vn/khat-vong-xanh-cua-vicem-zc0vdws8ax-52086