Since 2017, A Chau Company has published an annual environmental management manual for all customers, partners, agencies/organizations, individuals, and others interested in the environment, both inside and outside the sector.
A Chau Company is delighted to introduce and announce the 6th edition - " Environmental Handbook," which includes new points and significant modifications based on the Law on Environmental Protection 2020, related Decrees, and Circulars"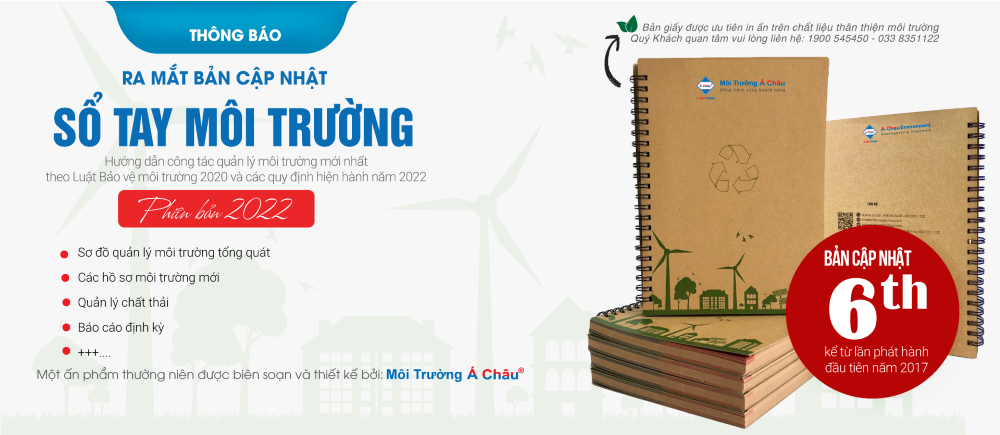 In 2022, the handbook's main content will be: Follow up on new points and significant changes in environmental management work:
Latest environmental regulations

Diagram of general environmental management

New environmental profile: Preliminary environmental impact assessment, Environmental impact assessment, Environmental license, Environmental registration,..

Waste management guidelines: domestic, hazardous, industrial waste,…

Specific waste management guidelines (medical, pesticide packaging), wastewater, and emissions

Environmental protection report 2022

Part 2 focuses on A Chau's solutions and service value chain for accompanying customers
+ … From the experience of more than 300 experts, we continuously consolidate, develop our consulting ability, and optimize environmental solutions, which has resulted in consulting for more than 10,000 customers.
* Handbook with bilingual English – Vietnamese.
General environmental management diagram: main items in the environmental handbook 2022
The paper version and a pre-order guide.
A paper version with priority printing on eco-friendly materials is available.. Customers who are interested may call the A Chau's customer service hotline at 1900 545450 or 033 8351122 to make a reservation.
We are thankful for the support and trust of our valued customers, partners, contractors, and others during A Chau's development and in the future!
We wish you all the best of prosperity and constant growth!
Best regards,
A Chau Company.