The Green School Project of A Chau Environment Company cooperates with Dien Hoa Secondary School (Thua Thien Hue province) to organize the program to exchange waste of milk cartons, old books, notebooks, old clothes for gifts for all students of the school. With the message "waste is a resource", the program aims to spread the sense of responsibility to protect the environment, raise awareness and change the students's behavior towards the surrounding environment. Students understand the importance and significance of waste sorting, collection, and recycling.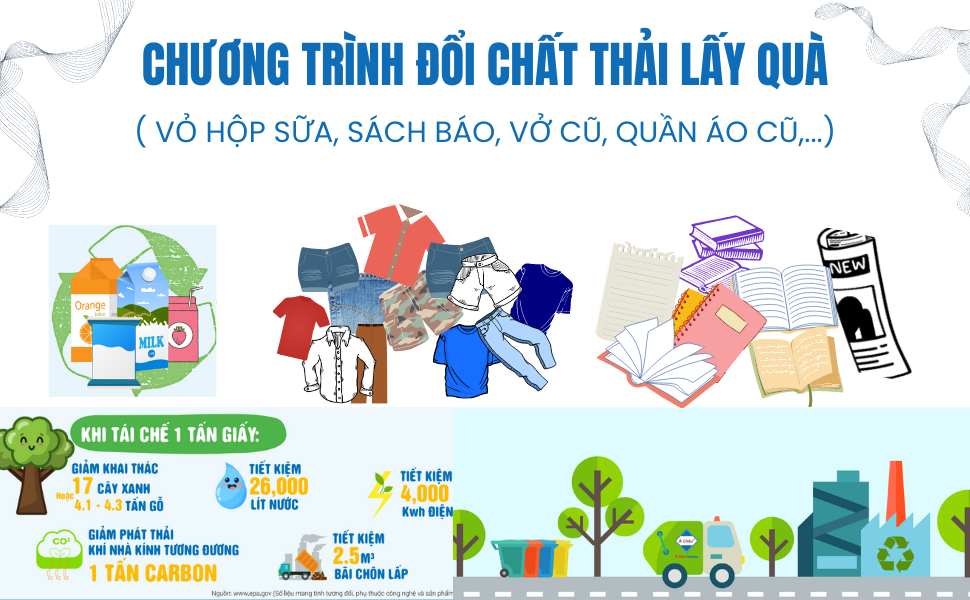 The program will take place at 7:30 am on April 24, 2023, at Dien Hoa Secondary School (Hue). With the participation of students, teachers, leaders of Dien Hoa Secondary School (Hue) and A Chau Environment Company.
PROGRAM ACTIVITIES:
Exchange old books, newspapers, old clothes for gifts: old items that are no longer used, we can gather to donate, share to organizations / individuals in the community, items that are not eligible for donation & sharing will be handed over to the reuse unit, recycling and the last method is to turn waste into co-processing fuel in cement kilns
Exchange milk cartons for gifts : spread and form the habit of collecting, sorting and recycling beverage cartons at home, thereby bringing a new life cycle to paper cartons.
0 VND used battery recovery: works with the aim of improving the harmful effects of batteries and building habits of using used batteries.
A CHAU ENVIRONMENT'S COMPANION
As a representative unit of the propaganda team and receive all types of waste after classification, we hope that through this practical activity, we will spread the awareness of environmental protection from the future citizens of the country. Forming the habit of sorting waste at source contributes to raising the awareness of environmental protection for children in daily activities, thereby spreading to their families and society.
With the orientation "Waste is a Resource" - A Chau Environment wishes to accompany deeply with schools, agencies, organizations, individuals, brands, corporations, factories ... and environmental projects from domestic and foreign organizations. Consulting, documenting, propagating and providing sustainable waste management solutions in order of priority: Reuse – recycling – co-processing – and sustainable waste management solutions oriented towards a circular economy
View more:
Phu Mau Secondary School (Hue) organizes a program on sorting, recycling garbage, exchanging milk cartons for gifts and rescuing used batteries!
Can Thanh Primary School 2: Waste sorting at source - "Waste exchange for gifts"!
Festival "Women take action for green, clean and environmentally friendly Hoc Mon district" in 2022
Green living: solutions to recover used batteries and companion pieces to protect the environment!
Source: A Chau Environment