Dear Customers, Agencies/Organizations, Partners, Contractors, Individuals,... and Readers;
Firstly, A Chau Environment would like to thank you for your companionship and reception to our publications during the past time. In order to serve environmental management in accordance with the latest current regulations, A Chau Environment is pleased to announce the official release of 10,000 copies of the 2023 Environmental Handbook.
The latest edition is updated for the 7th time (since 2017) - The Environmental Handbook continues to focus on updating the guidelines for environmental management work and integrating policies and solutions for environmental issues being concerned by Organizations, Communities.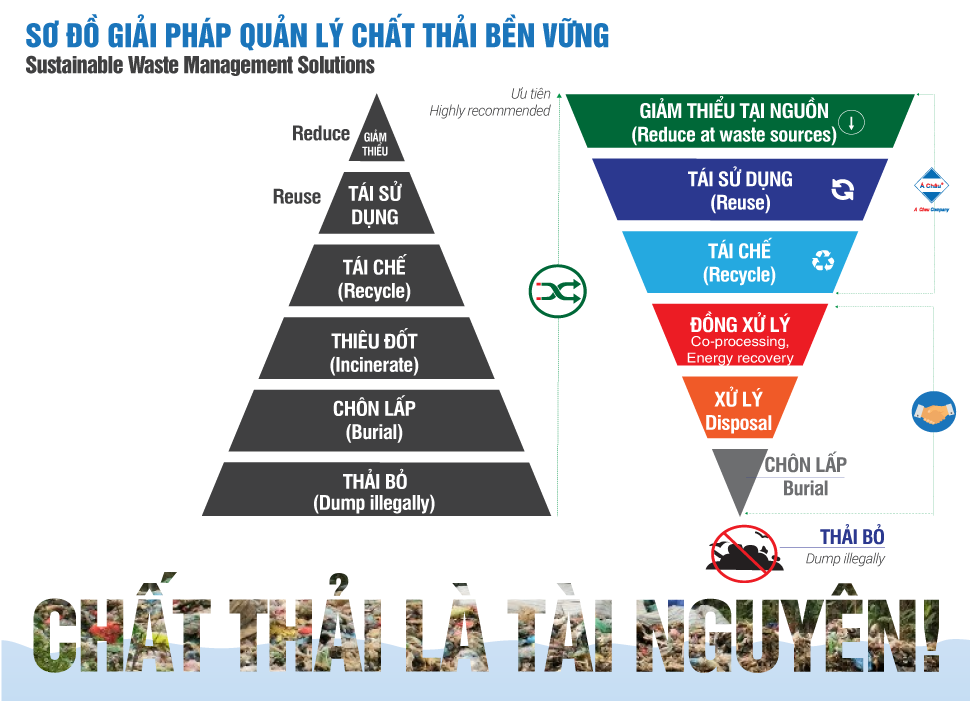 Overview of the latest regulations, dossiers of procedures and guidelines according to the Law on Environmental Protection 2020. However, the new handbook is updated as of March 2023. For new, modified or supplemented contents after the above time, Customers are invited to follow updates of A Chau Environment in www.moitruongachau.com and in the following versions;
Serving business owners, environmental employees, organizations and individuals,…;
Issuing 10,000 paper copies – priority is given to printing on environmentally friendly kraft paper material. Because of kraft paper's properties, the color and sharpness of the publication may be affected to a certain extent;
Bilingual English – Vietnamese; +++
If Customers are interested, please contact us to book in advance at Hotline/Zalo 1900 545450 - 033 8351122, chat box at website.
---
What is an Environmental Handbook?
The Environmental Handbook is part of a series of documents issued annually since 2017, updated based on current laws in the field of environment which are researched, synthesized, integrated from practice, compiled, designed, produced by A Chau Environment - aiming to serve Customers, Partners, Agencies/ Organizations/ Units, Individuals inside and outside the industry,...
Main contents in the Environmental Handbook - release period for the first quarter of 2023:
Legal and environmental documents
PART I – GENERAL PROVISIONS ON ENVIRONMENTAL MANAGEMENT
1. Diagram of environmental management
2. Overview of some enterprise environmental profiles to be prepared
Environmental Impact Assessment
Environmental Permits
Environmental Registration
3. Waste Management
Domestic solid waste
Hazardous waste
Normal industrial solid waste
On-site wastewater management of specific wastes (medical waste, pesticide packaging,...)
4. Extended Producer Responsibility (EPR)
5. Environmental criteria - building new rural areas, improving new rural areas
6. Mitigating greenhouse gas emissions, organizing and developing carbon markets
7. Co-processing and regulations on the use of waste as alternative fuels...
8. Water Resources Permit
9. Environmental monitoring and reporting
2023-2024 CALENDAR
PART 2 – ABOUT A CHAU ENVIRONMENT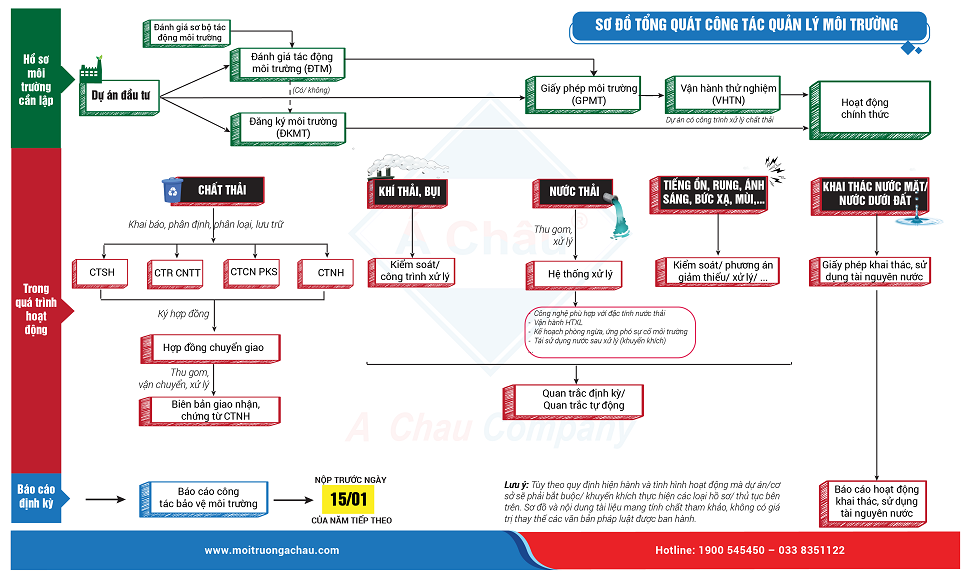 Environmental management chart and procedure updated to 03/2023
ACKNOWLEDGMENTS
During the completion of the publication:
A Chau Environment sincerely thanks the companionship and trust of all Customers from the beginning and in the following stages. Opportunity to cooperate with Enterprises / Agencies / Organizations / ... Diverse scales and industries, from specific requirements to strict standards, are valuable opportunities for A Chau Environment to access, research, create and design appropriate environmental solutions.
Sincerely thank our Partners – Contractors for accompanying A Chau Environment;
Sincerely thank the A Chau Environment team for their dedication and continuous upgrade in serving customers across the country;
We are committed to continuing to improve the next editions of the "Environmental Handbook" in the progressive spirit;
In case of Customers need in-depth advice on specific environmental issues as well as comments, further information, feedback on the copyright or material use, ... please contact the official channels of A Chau Environment, Hotline 1900 545450 – 033 8351122; Email info@moitruongachau.com; Service feedback: 033 975 1122.
We wish you all the best of good health, prosperity and constant growth!
Best regards.