On April 22, 2023, Fashion Revolution Vietnam (FRVN), Saigon Swap and A Chau Environment will accompany at the "Keep the Revolution Going" event within the framework of Fashion Revolution Week 2023, inviting you to join us in practicing slow living through clothing exchange, refreshing your wardrobe and repairing clothes to extend their lifespan!
Thereby, together with the Community, the event aims to promote and encourage the development and spread of activities towards swapping and sharing to extend the life of clothes as well as transfer clothes that are no longer reusable to continue the life cycle of reuse - recycling - responsible and environmentally friendly treatment instead of treating them as household waste or landfill!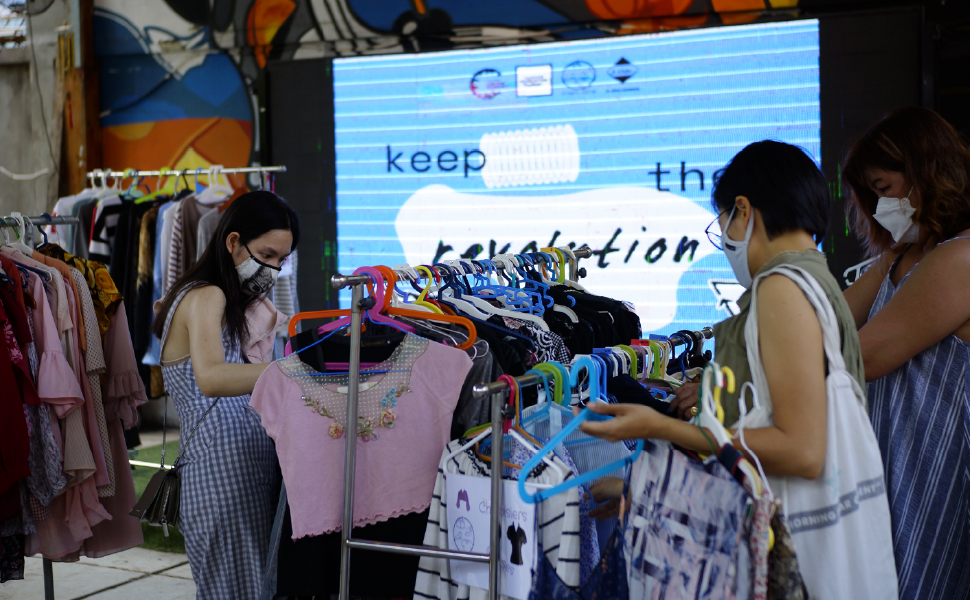 Fashion Revolution Vietnam, Saigon Swap and A Chau Environment accompany in the event "Keep the Revolution Going" in 2022
VENUE AND TIME:
Learn more and join the event at Fanpage: https://fb.me/e/FC0Rh9pn
(Or contact us – A Chau Environment for answers, support information about the event in the chat box at website www.moitruongachau.com or hotline/Zalo: 033 8351122)
Location: The Backyard - 19, Street 46, Thao Dien Ward, District 2
Saturday, April 22, 2023
9:30am - 11:30am: You can bring your clothes to this early opening session to receive additional benefits such as extra exchange points and priority entry to the exchange event 30 minutes before the official opening of the exchange event.
3:00 - 5:30 p.m.: Clothing exchange event.
Participation: 150,000 VND / exchanger, including 1 drink and 15 exchange items.
Clothing exchange process
1- For every piece of clothing you bring, you will receive 1 point. 1 point = 1 item of clothing or accessory that meets quality criteria.
2- With points, you can choose other items at the event. 1 point allows you to select any other part of the items.
You can exchange up to 15 items of clothing or accessories on the day of the event.
The event is based on the principle of simplicity and cooperation. In addition to being economical, this is a super eco-solution that allows you to give a second (or third!) life to clothes that are still in very good condition. You leave the event with new outfits and accessories, revamp your wardrobe and shop without any guilt!

Finding out the "circular" life cycle of clothes that are no longer reusable!
What if your clothes are not eligible for exchange, frayed, damaged, torn and no longer usable? You can still bring it, and here we invite you to explore their next journey in the A Chau Environment:
Clothing that is still reusable but not eligible for swapping during the event, will be selected, sorted, and distributed to charities such as the Red Cross Society, religious establishments (pagodas,...), shelters, disadvantaged areas,…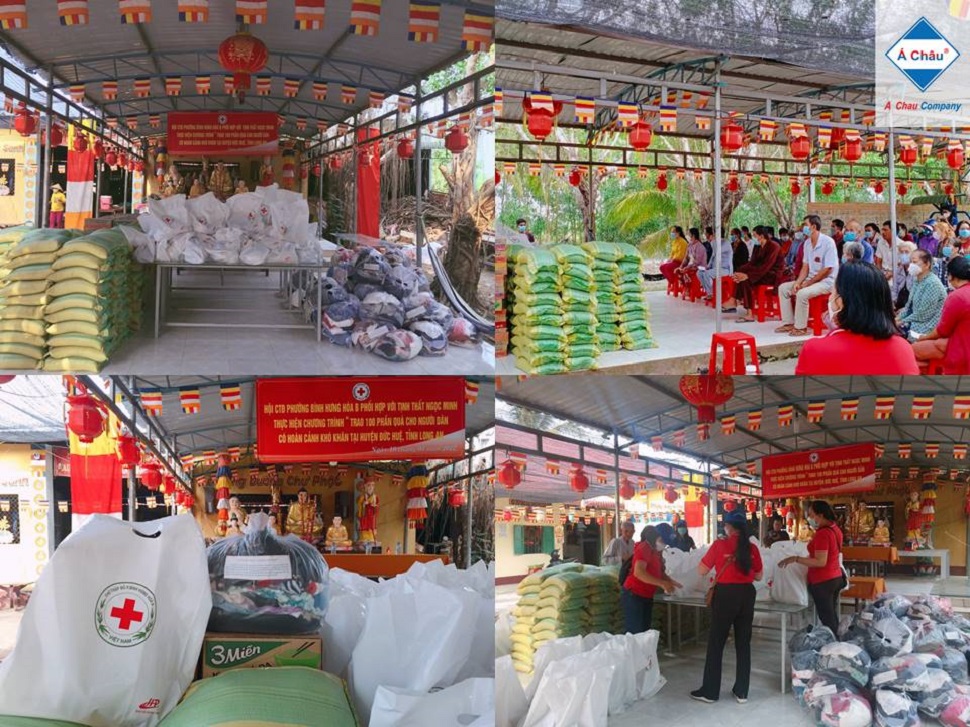 The program accompanies the Red Cross Society of Binh Hung Hoa B ward to give 100 gifts to people in Duc Hue District, Long An Province (photo: A Chau Environment)
Items of clothing that are not capable of reuse will be sent to local units to process (cut, sew) into industrial cleaning cloth, specifically A Chau Environment facilities that are supplying raw materials such as Industrial Sewing Facilities for the Handicapped,... The facility is contributing to creating decent and sustainable jobs for workers with disabilities, helping them confidently integrate into the community. A Chau Environment continues to participate in receiving finished products for distribution,... to factories across the country and exports to neighboring countries.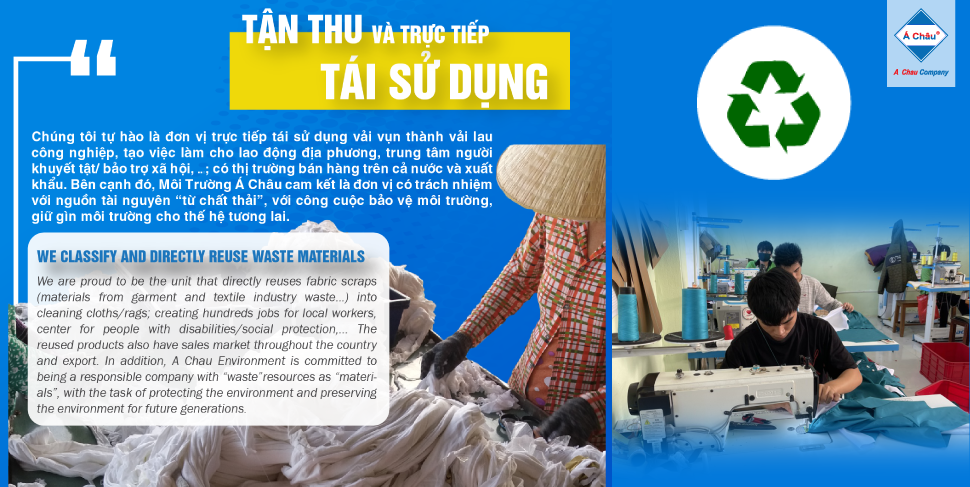 Non-reusable, non-absorbent clothing items to make wiping cloths,..., we selectively transfer to recycling units or directly pre-processing (cutting, crushing) to supply the cement plant to become an alternative combustion fuel to coal - without causing other secondary pollution.
View more updates
Come along for our clothes swap to refresh your wardrobe and join us as we practice the slow act of repairing our clothes to prolong their longevity!
Fashion Revolution Vietnam is collaborating with Saigon Swap to host the "Keep the Revolution Going" event as part of the Fashion Revolution Week 2022. Come to the event to swap your clothes, explore ways of giving a new life to your beloved clothes, learn more about the circular fashion economy and have fun with the swappers community.
The Backyard - 19, Street 46, Thao Dien Ward, District 2
Saturday April 22nd
9:30am - 5:30pm
9:30am - 11:30am: The early drop-in session opens for all the swappers who want to get more benefits (extra credit, priority access to the event, and 30 minutes of shopping prior official opening door)
3:00pm - 5:30pm: The swap event

1- You get credits in exchange for the clothes you bring. 1 credit = 1 item of clothing or accessory meeting the quality criteria.
2- With the credits you choose other items from the stock on site. 1 credit allows you to choose any other part of the stock.
Up to 15 items of clothing or accessories can be exchanged on the day of the event.
Do you have clothes that are frayed, worn-out, torn and no longer usable? Visit the recycling station and learn more about how A Chau Environment utilizes garment scraps to create eco-friendly industrial cleaning cloths and fuels.
Participation of 150K VND / swapper, including a drink and up to 15 swap items
Source: A Chau Environment